Last night while I was trying to do this DIY t-shirt shredding thing that takes for freggin ever, I saw this PSA on MTV2:
I think the overall idea is a good one, but the focus on girls not sending these "sexts" and boys not sharing them rubbed me the wrong way. While there are also PSAs about cyber bullying and racism online, all of the sexting videos I watched focused on girls. Even the videos about forwarding sexts and "safe sexting" said basically the same thing - don't do it. The end.
Um right. Cause we all know how well that works with the whole abstinence thing. (I also don't like the implications that everyone, and by everyone they mean girls, should just assume that any pictures they send will be shared automatically since it deflects blame from the person who is doing the sharing.)
The website also has a quiz you can take to find out if you have online drama. (Which is silly. Wouldn't you already know if you did?) Anyways, I took the quiz as a boy as well as a girl to see if there were any differences and question 3 and 9 kind of pissed me off.
Boy:
Girl: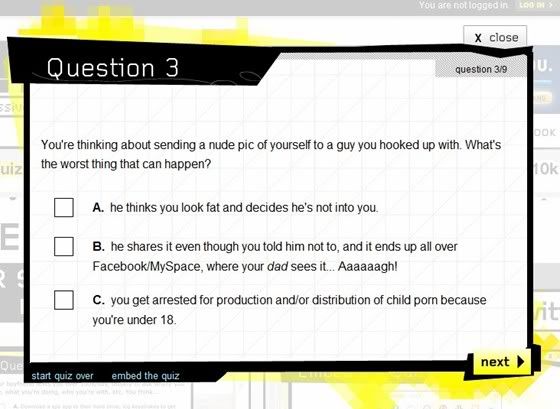 Yes, because all us girls ever care about it whether or not people think we look fat.
Boy: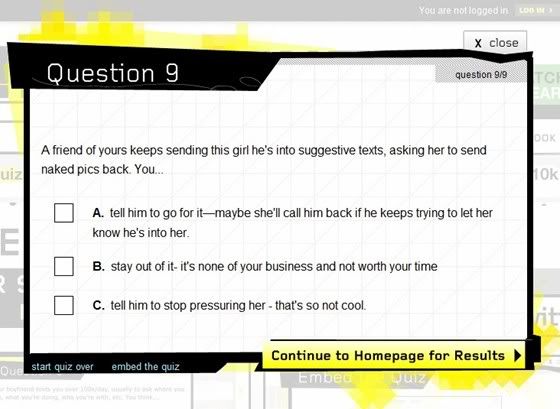 Girl:
And this highlights the fundamental problem I with this - a guy attempting to get a girl to send naked pictures of herself is a way to say he likes her. Basically he's saying, "I like you and am sexually attracted to you." But when a girl contemplates sending a boy a picture it's completely different. She's not saying "I'm sexually attracted to you too." No no no. We couldn't have that. She's saying, "here's a naked picture of me. Please like me." The people over at
A Thin Line
never stop to consider that maybe some girls send naked pictures of themselves because they want to.
Another weird thing about the quiz, is that even though I answered all of the questions the same I got a different score. 56% as a girl and 72% as a boy. The quiz also prompted me to get more information about "sexting" when I took the test as a girl but not as a guy.
Obviously I don't think this PSA is the end of the world, but I think it highlights very nicely the issues Jessica Valenti brought up in
The Purity Myth
.