I have one of the most boring lives ever. Usually, I'm pretty okay with that (a lot of times
good
equals
boring
).
But other times, it seriously blows.
Sigh.
Fridays are always the worst.
I did start a new batch of resin pendants, but I can't play with them till late tomorrow. I also have to admit, I'm kind of obsessed with turning all of my pictures into "Polaroids."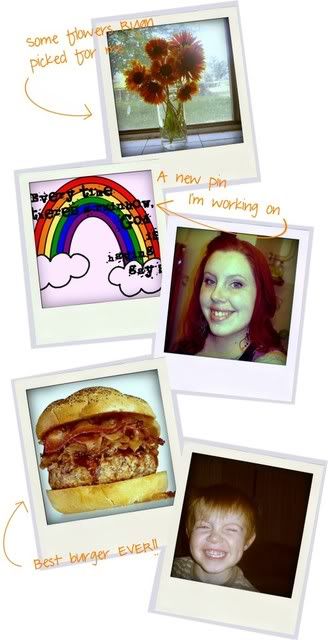 Here are just some random pics I took today (well besides that pic of me). And I got that picture of the
Smokin Chicken Burger
from Rachael Ray. Ok, so I only took three out five of those pictures today.
Shoot me.
We did have those chicken burgers for dinner tonight though. They were seriously the best burgers I've had in my entire life. Now I may be biased considering I don't like normal beef burgers, but they were really
really
good.
And I do have to give props to Ryan for picking those flowers for me. I'm a sucker for handpicked flowers (though store bought roses make me want to puke). I think it's his way of saying, "I'm not planning on doing any dishes or housework, EVER, but I still love you and want you to have sex with me." What a stud muffin.
I guess that's it. I'm sorry. I know this post was lame. Hopefully you're having a more eventful evening then I.
Cheers.