I want to give a shout out to the UK for
banning
two members of the Westboro Baptist Church.
These people are seriously fucked in the head.
The reason Fred Phelps and his daughter wanted to go to the UK was just to protest a play, the Laramie Project, about the brutal murder of
Matthew Shepard.
A UK Border Agency spokesman said: "The Home Secretary has excluded both Fred Phelps and his daughter Shirley Phelps-Roper from the UK.

"Both these individuals have engaged in unacceptable behaviour by inciting hatred against a number of communities. The Government has made it clear it opposes extremism in all its forms.

"We will continue to stop those who want to spread extremism, hatred and violent messages in our communities from coming to our country. That was the driving force behind the tighter rules on exclusion for unacceptable behaviour that the Home Secretary announced on 28th October last year.

"The exclusions policy is targeted at all those who seek to stir up tension and provoke others to violence regardless of their origins and beliefs."

Members of the Westboro Baptist Church, mostly Phelps family relatives, regularly picket funerals of US war heroes, claiming their deaths are punishment for America's tolerance of gays.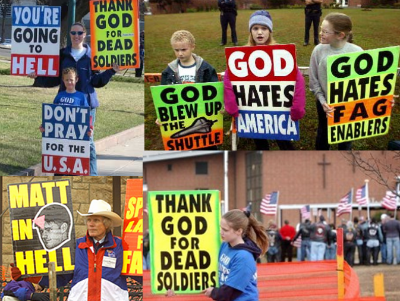 Fred Phelps has also described the Prophet Mohammed as a "demon-possessed whoremonger" and once said Catholics were part of the "church of the holy paedophiles".
I'm all for freedom of speech, but this church tries even my liberal patience.
The WBC has already picketed Matthew Shepard's funeral with signs reading, "Matthew Shepard rots in hell" and tried to get a permit to build a marble monument with Shepard's picture and the words, "MATTHEW SHEPARD, Entered Hell October 12, 1998, in Defiance of God's Warning: 'Thou shalt not lie with mankind as with womankind; it is abomination.' Leviticus 18:22."
Can't these people give it up already?
The WBC also pickets the funerals of killed American soldiers (in their view, soldiers did not join the military out of a sense of patriotism, but because they are "lazy, incompetent idiots" unable to find work elsewhere.), the memorial of 2006 Sago Mine disaster victims, sent a group to the World Trade Center site to protest the rescue efforts while holding signs with slogans thanking God for the event, and even threatened to protest the Amish school killings.
The Amish? WTF is that about? (If you don't know too much about them, google them and be prepared to be sickened.)
So way to go UK.
This is a video from Michael Moore's show The Awful Truth. Moore went to every state that had anti sodomy laws in "the Sodomobile", a pink bus filled with gay men and women. It's ridiculously funny and he stops to talk to Phelps. (Keep in mind this was in 1999.)
On a side note, I want to recommend the Laramie Project play to everyone. I watched a performance at SDSU and it was
amazing
. :)