Letter from Birmingham Jail is one of my favorite works by Martin Luther King Jr. It is far too long to post here, but if you haven't read it you should do so now. It's ok, I'll wait...
Amazing right? :)
"We know through painful experience that freedom is never voluntarily given by the oppressor; it must be demanded by the oppressed. Frankly, I have yet to engage in a direct-action campaign that was "well timed" in the view of those who have not suffered unduly from the disease of segregation. For years now I have heard the word "Wait!" It rings in the ear of every Negro with piercing familiarity. This "Wait" has almost always meant 'Never." We must come to see, with one of our distinguished jurists, that "justice too long delayed is justice denied."

"Lukewarm acceptance is much more bewildering than outright rejection."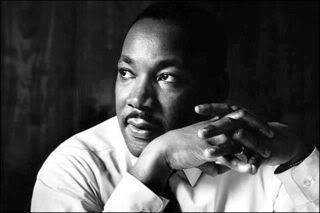 Here are some general quotes from MLK that I love:
"A nation that continues year after year to spend more money on military defense than on programs of social uplift is approaching spiritual death."

"Discrimination is a hellhound that gnaws at Negroes in every waking moment of their lives to remind them that the lie of their inferiority is accepted as truth in the society dominating them."

"It may be true that the law cannot make a man love me, but it can keep him from lynching me, and I think that's pretty important."

"Darkness cannot drive out darkness; only light can do that. Hate cannot drive out hate; only love can do that. Hate multiplies hate, violence multiplies violence, and toughness multiplies toughness in a descending spiral of destruction....The chain reaction of evil--hate begetting hate, wars producing more wars--must be broken, or we shall be plunged into the dark abyss of annihilation."

"Man is man because he is free to operate within the framework of his destiny. He is free to deliberate, to make decisions, and to choose between alternatives. He is distinguished from animals by his freedom to do evil or to do good and to walk the high road of beauty or tread the low road of ugly degeneracy."

"In the end, we will remember not the words of our enemies, but the silence of our friends."

"When you are right you cannot be too radical; when you are wrong, you cannot be too conservative."

"Nothing in all the world is more dangerous than sincere ignorance and conscientious stupidity."

"The ultimate measure of a man is not where he stands in moments of comfort and convenience, but where he stands at times of challenge and controversy."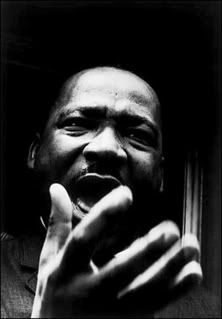 Happy Martin Luther King Jr. Day.