I think it's amusing how up in arms people are getting over the
court case
in Washington where it was ruled that teachers can have sex with 18 year old students.
Really? The court isn't going to get involved with the sexual relations of two consenting adults?
Shocking!
(Unless of course those two adults are gay or if it is a minor, the minor is male and the teacher female, but that's a can of worms for another day.)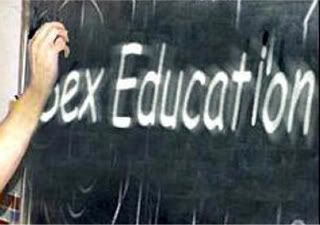 Obviously, there is the abuse of power issue and it is kind of…well, icky…but we can't make laws based on our squeamishness. The more interesting factor for me is whether this is going to include students who are under 18, but are the age of consent (16 in Washington).
Since teachers are still allowed to be fired by the school boards, I am looking at it as an effective way to weed out horny teachers. Cost effective and a way to piss off tight assed conservatives...
Me Likey.
What is annoying me about this situation, is the fact they're trying to pass legislation that would "make it a crime punishable by a mandatory minimum of five years in prison for a teacher to have sex with a student up to age 21, as long as the teacher is five years older than the student and at the same school."
The reason the want it to go to 21 is for special education students. Rep. Larry Haler (R), the prime sponsor of the bill, said he also thinks it should cover all students regardless of age in case a teacher "grooms" a student to have relations with them once they turn 18.
Obviously, this is retarded and unconstitutional. What about college students or 20 year olds in night school? As usual, parents need to take more responsibility with raising their children properly.
It also wouldn't hurt if teachers could keep it in their pants for a year.
I'm sure it's the fault of those godless homosexual liberals though so let's just make new laws where the government can take care of the problem for us. Wait, we're supposed to be against that? Oh it's okay when it's restricting rights, not upholding them? Got it.
(
Sorry
, I started to get sucked into the void of ration thought that I imagine takes place inside the head of a
jack ass
conservative.)
It also seems this isn't such an uncommon occurrence and I love how the students told on their lovers. I guess those students weren't really that "mature" for their age, huh?
On a side note, I had a teacher at my high school that everyone had a crush on. Even though I'm sure he never did anything while teaching, he is now dating a student that graduated a few years after me. He is young (30 maybe?) but I still find it weird.
I know this pic isn't needed, but damn... :)
*Edit: There is a special law that covers 16 and 17 year olds. In fact, that is the law they had to take to court since it was vague in what it encompassed. (It doesn't include anyone under the age of 16 since that is the consent age and anyone having sexual relations with a 15 year old student, or younger, can be prosecuted for child rape or molestation.)