Reposted from:
American Humanist.org
"Why believe in a god? Just be good for goodness' sake," proclaims a new holiday ad from the American Humanist Association. Already in the New York Times and Washington Post, the message will soon be blazoned on the sides, taillights, and interiors of over 200 Washington DC Metro buses.
It's the first ad campaign of its kind in the United States, and the American Humanist Association predicts it will raise public awareness of humanism as well as controversy over humanist ideas.
"Humanists have always understood that you don't need a god to be good," said Roy Speckhardt, executive director of the American Humanist Association. "So that's the point we're making with this advertising campaign. Morality doesn't come from religion. It's a set of values embraced by individuals and society based on empathy, fairness, and experience."
At a press conference today launching the campaign, large displays were featured showing the ads in today's New York Times and Washington Post, the bus posters, and how the posters will look mounted on the side of a bus and inside, behind the driver's seat.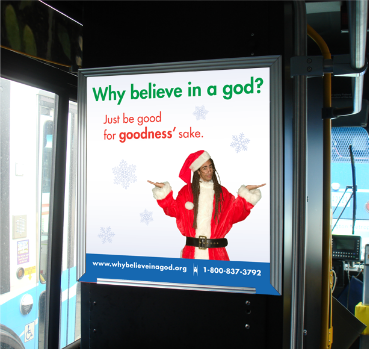 "We expect these bus signs to generate a lot of public interest," said Fred Edwords, director of communications for the American Humanist Association. "Some folks may be offended but that isn't our purpose. We just want to reach those open to this message but unaware how widespread their views are.
The American Humanist Association (www.americanhumanist.org) advocates for the rights and viewpoints of humanists. Founded in 1941 and headquartered in Washington, D.C., its work is extended through more than 100 local chapters and affiliates across America.
Humanism is a progressive philosophy of life that, without theism, affirms our responsibility to lead ethical lives of value to self and humanity.