Most people don't know that I am super cheap (…ok, I don't like the way that sounds. Thrifty is a much better way to put it.) I LOVE LOVE LOVE shopping but I refuse to spend too much and always buy things on sale. In fact, I have a really hard time paying full price for anything and have no problem waiting a year for something just to save money. It seems I am really lucky though, since the clothes and shoes I like the most always end up on clearance. (I try not to think too hard about what that says about my taste.) Besides clothing, my favorite things to buy are household items. I am a sucker for furniture, kitchen gadgets, textiles, and odd decorations. I like to own things that you're not going to find in every house you visit.
On my quest of owning more crap then necessary, I found this totally awesome website called
GreenerGrassDesign.
All the items they feature are really funky (in that hand made retro way). I also love sites that offer price based shopping. Here are some of the things I love so far:
SUCK UK CALENDAR TAPE BY LABORATORIUM.
Multi-functional sticky tape that works as a calendar, diary, organizer & planner. As well as being pretty useful packaging tape! For 12 bucks I just can't pass it up.
SUCK UK ORIGAMI STICKY NOTES.
Re-cycle your old sticky notes and turn them in to fun 3D models! Each pad has instructions for 10 different shapes, including: pig; penguin; boat; crane; butterfly; squirrel; lily and water bomb. Only $5.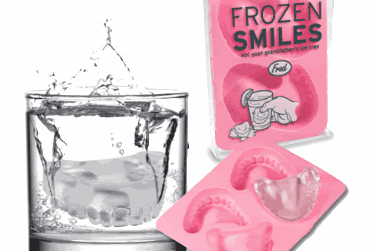 FROZEN SMILES by Jason Amendolara.
All of a sudden, dentures aren't just for Grandpa anymore! Freeze up a batch of Frozen Smiles and drop them into any glass. Frozen Smiles is made from soft, food-safe synthetic rubber. Ok, this is just ridiculous but it will make the perfect gift for my boyfriend's goofy little brother, $7.
INTERNATIONAL ARRIVALS- EMMA FILE FOLDER Set of 6.
What more needs to be said? These are just gorgeous. 6 for 10 dollars.
GOOD CHEMISTRY SALT & PEPPER SHAKERS.
This clever porcelain salt & pepper set reduces our favorite condiments to their elemental essentials. Must be the nerd in me, but I HAVE to have these, $16.
So there are some of my favorites. I wanted almost every item in the office section. Check it out.