I feel kind of uncomfortable blogging about sex. I actually find that pretty odd considering I LOVE sex and talk about it more then I probably should. In fact, I would enjoy asking people totally uncomfortable questions regarding their sex lives for a column or book. As of now, I just ask totally uncomfortable questions.
So, I guess you could say I am a huge perv.
I like to read (and write) erotica and love porn. LOVE it. My boyfriend and I are completely open about our mutual porn admiration and it has actually turned into something we sometimes like to do together. I've noticed some people think it's strange that I actually like gay porn the most. And not just woman/woman either. I am totally for porn that features only men (and lots of them lol). I don't know why, but the idea of two guys together really gets me going.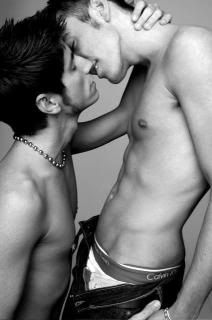 There are a lot of judgmental people when it comes to liking gay porn. Most of my friends think it's totally gross and don't understand what I see in it. Because of that, I've never really talked about the extent in which I love it. I guess that is why I'm writing this.
My new gay fix is blogs written by gay men. I know it's totally retarded, but that's what I'm into right now. For a while it was the men seeking men on Craigslist. (I've brought it up before but seriously, if gay men don't bother you then check it out. The people are utterly scandalous and totally shameless. Definitely one of my favorite combinations. lol) One of the blogs I like to frequent talked about
Xtube
a lot. You think a perv like me would have checked it out before, but I never had.
Well, that would no longer do.
So last night I got an account and went a little crazy with the video watching. Most of the videos are short, which works the best for me since I tend to get bored with sex scenes. I also really like amateur porn. I get off on the idea of watching real people having real sex in their real homes. There are also a lot of guys who just masturbate in front of the camera. This is another thing I am totally into. I have no idea why, maybe it's some sort of penis envy. (I have tried to convince my boyfriend to let me watch but he is completely uncomfortable with it.)
So there it is. I don't know if I'll blog about sex much more considering some of my friends read this, but I wanted to throw that out there. This is a video of some guy jerking off.
Please don't watch if you are uncomfortable with sexual material.