I LOVE Banksy. He is a British graffiti artist. His messages are usually anti-war, anti-capitalist or anti-establishment. He is pretty much just kick asstic. (This happened in 2006 but I just learned about it. I thought it was brilliant and wanted to share.)

Banksy replaced Hilton's CD with his own remixes and given them titles such as Why am I Famous?, What Have I Done? and What Am I For?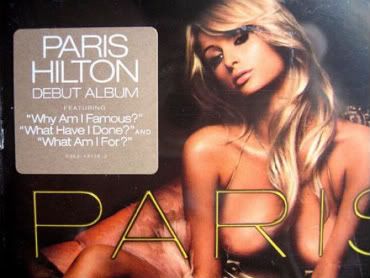 He has also changed pictures of her on the CD sleeve to show the US socialite topless and with a dog's head.
A spokeswoman for Banksy said he had doctored 500 copies of her debut album Paris in 48 record shops across the UK.
She told the BBC News website: "He switched the CDs in store, so he took the old ones out and put his version in." But he left the original barcode so people could buy the CD without realizing it had been interfered with.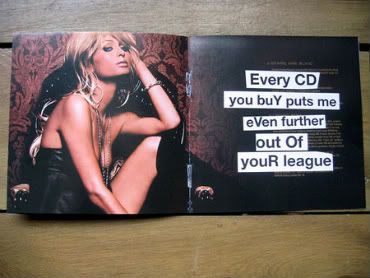 My favorite part of this whole thing,
"No customers had complained or returned a doctored version."
HA!
I have TONS of picture to share but until then, his website is on the right. Check it out...