Holden is finally at the age where we can actually do things that are fun for both of us to do together vs. the random carpet lint of which he found hours on end of entertainment previously.

Yesterday we were painting together, which so far has to be my favorite thing we do. (I especially like it when I walk away and he decides my painting wouldn't be complete with out a few splashes of every color within reach.)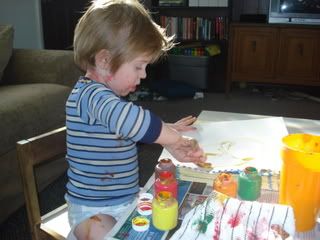 It was nice to do something together too because even though we live in the same house, I am pretty sure we're on different planets. I don't know how it is with other parents but it sometimes feels like we are living parallel to one another without actually touching. Don't get me wrong, I am totally OK with that. I need personal time and my selfishness for something that resembles my own life did not fall out with the placenta, but it was nice none the less.

I also want to see if Holden is old enough to go to the Children's Theater. It says ages two and up but I have never tried to put him in a situation where he has had to sit for long periods of time and I'm not sure I can handle the stress of making him. So tonight I'm going to go with some friends to check it out. Hopefully it's something we can do as a family and if not, well I am pretty sure I will have found something fun to do.