I don't believe in New Years resolutions. I never have. To me it's just some ridiculous crap we make up in order to force ourselves to think optimistically about the next 365 days we are going to waste on the daily grind. Now that doesn't mean I don't think it's a good idea to have goals and look to the future, I just don't need some arbitrary day like New Years Eve to provide an opening. I tend to just think of what I want to get done or try throughout the year and this year I did actually set a few goals for myself. I am proud to say I actually finished one of them. (Did you get the urge to shout overachiever? I know I did…)
I wanted to read at least 50 books. That's one a week with room for laziness and I am almost ashamed to say that I will break and maybe exceed 200 by time the year is out. My friends like to joke that I need to go to Reader Anonymous meetings or pick up a more controllable habit, like drinking, and I am starting to see their point. I can easily read a book in a day and have even finished two a few times. I keep detailed lists of books to buy, books to check out, books read, and upcoming releases. It has literally become another person in my life. Now the reason I feel like I can say this finally is because the urge has started to wane. I have finally been able to start some of my other hobbies again I am glad for the breather.
I have actually started two new projects. The first is paintings incorporating some of my favorite quotes. I figure I can't go wrong pilfering some genius. The second is mixed media collages of my friends as fairy tale characters. Not gonna lie, it's pretty awesome.
Here's a preview:
Me and Ryan:
Mike and Tyler:
Kaleena and Stephen: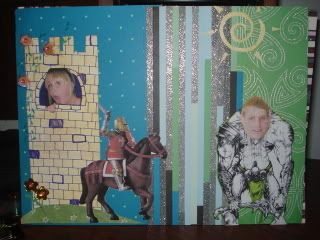 I still have a few more to do but I am happy with the way they have turned out so far. I tried to include some inside jokes with some of the pictures, like Mike having a sword and Tyler a hose. Hopefully everyone likes them. (Well, at least the few people whose opinion I actually give a damn about.)
So don't fret imaginary book world, I will be back. And maybe by then I will have learned a little self control. I highly doubt it, but what's life without self delusions?
BORING…